A little over two years ago, Steve and I remodeled our kitchen. I am often asked to share our DIY kitchen remodel cost, so today I'm breaking it all down.
We hated the kitchen layout from the day we moved in. The space was closed in, you couldn't see the living room from the kitchen, and the appliances were outdated and poorly placed.
Knowing how expensive and time consuming a kitchen remodel would be, I painted the cabinets and changed out the hardware which bought us several years of being okay with the space. You can see why I painted the cabinets TWICE here.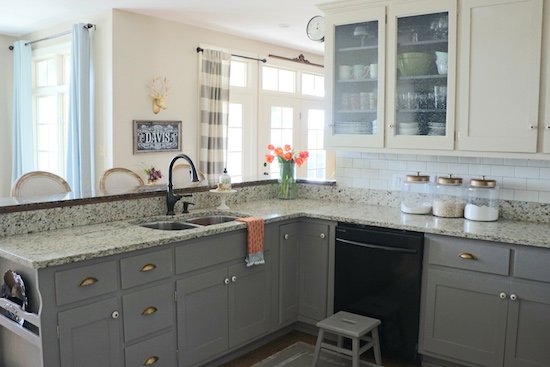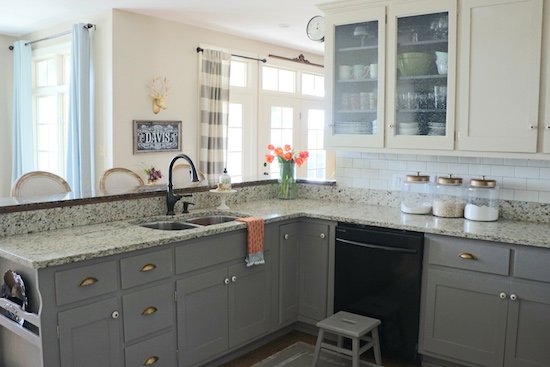 I have attended Haven Conference for several years, and in 2017 I won a competition with The Home Depot. I had the amazing opportunity to partner with them on the remodel. Although I priced them out for you, we did not have to pay for the appliances or the countertops thanks to The Home Depot.
In complete transparency, I also partnered with Custom Service Hardware on the Cabinets, Hickory Hardware on the hardware, Delta Faucet on the faucet and pot filler, and Blanco on the sink. Keep in mind this blog is my full time job which is why I am able to partner with companies. So for us, the cost of the kitchen included all the things that snowball after a remodel – we had to hire a drywaller for our shortened wall and to patch the ceilings where the wall once extended. We also had to paint the ceilings throughout the entire first floor. Because we changed the layout of the kitchen, we had to patch the floors and ended up refinishing/staining the entire first floor as well.
DIY Kitchen Remodel Cost
Cost of Labor: $0
Cost of Supplies: $11,465
Quartz Countertops: $4685
RTA Cabinets: $4560
Farmhouse Sink: $720
Kitchen Faucet: $375
Pot Filler: $450
Cabinet Hardware: $425
Miscellaneous Plumbing and Electric Supplies: $250
TOTAL: $11,215
Cost of Appliances: $5,200
Oven: $2200
Refrigerator: $2000
Dishwasher: $800
Microwave: $200
TOTAL: $5,200
Total Cost of Kitchen Remodel: $16,465
Now, as I mentioned before, we had a snowball effect. Because of our remodel we had to patch and paint the ceilings throughout the entire first floor. We also had to patch parts of the kitchen flooring and as a result refinish all the wood floors on the first floor. Keep in mind that with any remodel, additional costs like these will come up.
Cost of Flooring: $4,200
Since we changed the layout of the kitchen, we had some areas that needed patched, and while we were at it wanted to refinish the floors and have them stained a different color. This cost actually included our kitchen, kitchen nook, family room and dining room.
Drywall and ceilings: $3,900
We opened up a wall in our kitchen and took out a little coat closet. As a result, we needed some drywall work and the ceilings needed patched as well. We ended up repainting the ceilings in the kitchen, kitchen nook, living room, library and dining room.
Total Cost of Kitchen Remodel (including our unique additional costs): $24,515
I was curious what the average kitchen remodel costs, and I obviously found there is a huge range of costs. However, I feel pretty good about our kitchen knowing that the average upscale kitchen remodel (although I would consider ours in the mid-level range) is over $80,000!
Obviously the fact that we did most of the work ourselves helped save a lot of money. We recruited friends for the demo and throughout the kitchen remodel.
As I mentioned earlier, we brought in professionals for the projects that were beyond our expertise.
For nine weeks, we spent every spare moment and lost lots of sleep working on the kitchen. However, two years later, we still love our kitchen and feel and extra since of pride knowing we created so much of it!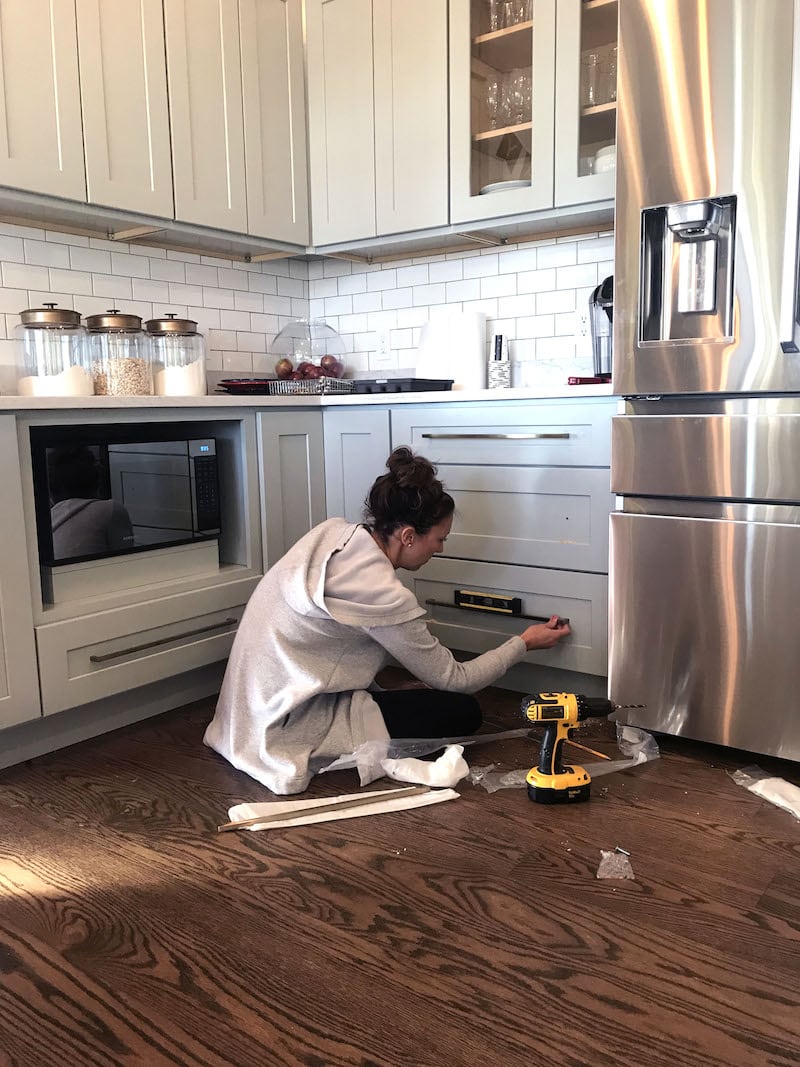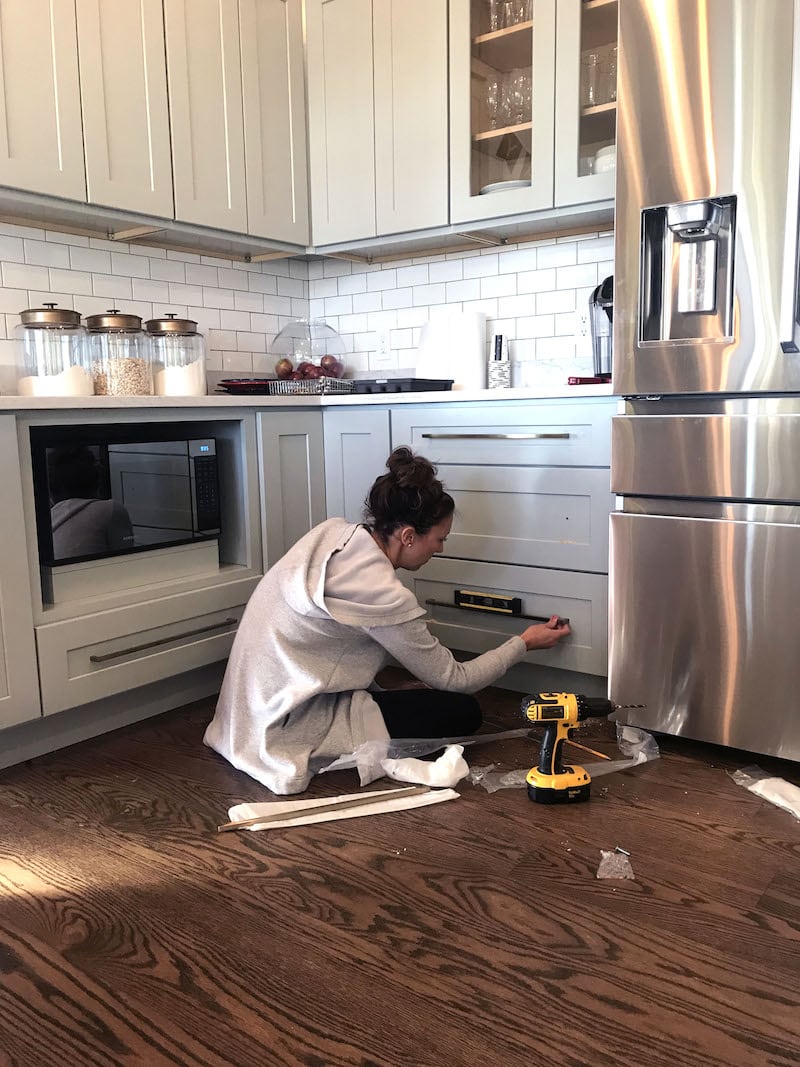 Are you new to my blog? Go HERE to see my home tour and HERE to shop for items I use in our home.
Find me on Facebook | Instagram | Twitter | Pinterest
Want to get my kitchen look? GO HERE!
---
Source: DIY - sincerelysarad.com